Matcha Smoothie - a simple smoothie featuring Matcha green tea, banana, spinach and lemon. This healthy green smoothie is super fresh and naturally sweetened.
Jump to:
Green smoothies are all the rage right now. Adding greens to your smoothie is a great way to add some extra veggies and nutrients, AND it can be a great way to reduce food waste!
Smoothies are perfect for using up wilted greens and brown bananas.
This smoothie also contains Matcha tea, which is a type of green tea with dried tea leaves that have been ground into a powder. The tea has a grassy flavor that is balanced with lemon - trust me, the lemon is necessary.
It's super fresh, earthy and delicious. Making for a great snack or a yummy add on to a smaller meal.
🧾 Ingredients
Matcha green tea - like regular green tea, but instead of steeping the tea leaves in water, the leaves are dried and ground into a powder. Matcha has a grassy flavor, leading to an earthy-flavored smoothie that's perfectly balanced by the lemon juice and sweetness of the dates.
Banana - adds body to a smoothie. It's also a good source of potassium and fiber. A great way to use up those brown (or frozen) bananas. Don't throw away those brown bananas, simple freeze and save it to make this smoothie or banana bread!
Spinach - fiber, nutrients and that beautiful vibrant green color. Make sure your spinach is clean and feel free to throw in a few extra handfuls.
Mint - you definitely need fresh mint. The dried version just won't give it the same level of freshness.
Lemon - the lemon juice really mellows out the grassy and slightly bitter flavor of the Matcha. Lemon adds lots of freshness. Make sure to use freshly squeezed, as the prepared lemon juice often has other added ingredients that we simply don't want in this smoothie.
Feel free to also add the lemon zest to the smoothie, it will add that strong lemon flavor. Or save the zest to use in another recipe like our Green Pizza or Date Night Pasta.
Dates - they add natural sweetness. Make sure your dates are soft so they blend into a nice paste. If yours aren't soft, soak them in warm water for about 15-20 minutes to soften them up.
I like to use Medjool dates. If you're using a different variety of dates (like deglet noor dates) that are smaller, you may need to use more than called for.
Hemp seeds - the protein and fat in this smoothie - something we need to make for a balanced meal/snack. Hemp seeds are also great because they don't take much blender power compared to other nuts (looking at you almonds). So if you don't have a high powered blender, hemp seeds will be your new best friend.
Coconut water - coconut water offers some added nutrients when compared to regular water (not that it's a miracle food). You can easily use plain water instead.
Kefir - totally optional, but adds creaminess to the smoothie. You can also use almond milk or other plant-based milk, though it may not be as creamy.
🥛 How to make this healthy green smoothie
This Matcha Green Tea Smoothie is super easy to make. Just throw everything in a blender and blend until smooth (up to 5 minutes depending the strength of your blender). You can add more liquid (coconut water, water, plant milk, kefir) for a thinner smoothie.
And that's it! Enjoy!
💭 Tips, Tricks and Tools
Tools: blender
Food safety first! If you don't drink all of your smoothie within two hours, put it in the fridge to keep it cold and safe.
If you don't have a super high powered blender, add the spinach, dates and hemp seeds first so they'll be at the bottom of the blender. This way, they'll blend better and you won't have chunks of spinach in your smoothie.
🍌 Nutrition 🥬
Matcha is very nutrient-dense, more so than regular tea because you're consuming the entire leaf. It's rich in antioxidants that have been associated with a reduced risk of heart disease and cancer.
Keep in mind, Matcha does contain caffeine so you might not want to drink this smoothie right before bed.
This smoothie is naturally sweetened with dates, and it's a good source of fiber, vitamins A and C, folic acid, calcium and iron.

🍽Serving Suggestions
Though this vegan green smoothie is balanced, I don't usually recommend smoothies as a complete meal because they don't tend to be as filling as a regular meal. Some of the fiber is already broken down (thanks to the blender) so it may not keep you as full. In general, smoothies just don't contain enough calories to keep you going until your next meal.
I would recommend having this smoothie as a snack or having it with something else. You could add something simple like a hard-boiled egg and toast, yogurt or an English muffin with nut butter.
🥃 More seasonal drink recipes:
Loved this Matcha Smoothie?
Comment below! And rate the recipe to let us know how it turned out! Not making it today? Save this vegan green smoothie recipe for later by pinning it to your Drinks Recipes Board and make sure to tag us on Instagram @crooked.carrot to show us your matcha green smoothie creations!
This recipe is part of our Green Recipe collection - green in color and a great way to reduce food waste.
📖 Recipe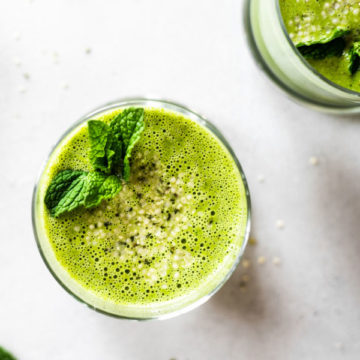 Green Matcha Smoothie
A simple smoothie featuring Matcha green tea, banana, spinach and lemon. This healthy green smoothie is super fresh and naturally sweetened.
Print
Pin
Rate
Ingredients
1

cup

spinach

1

banana

5

dates, pits removed

soften in warm water if needed

1

tablespoon

hemp seeds

⅛

cup

fresh mint

1

lemon

juiced

1

teaspoon

matcha powder

¾

cup

coconut water

¼

cup

kefir or plant-based milk

(optional)
Instructions
Blend: Combine spinach, banana, dates, hemp seeds, mint, lemon juice, matcha and coconut water (and kefir or nut milk) in a blender. Blend until smooth, 2-5 minutes depending on your blender. Add more liquid for a thinner smoothie.
Notes
PREP AHEAD: This smoothie is great for meal prep and can be blended in advance. Simply store it in the fridge for up to 3 days.
LEFTOVERS/STORAGE: Store in the fridge for up to 3 days. I like to store in a glass mason jar and use my metal straw to enjoy it. 
NUTRITION NOTES: This is a balanced smoothie with protein (hemp seeds), fat (hemp seeds), carbohydrate (banana, dates) and fiber (spinach, banana, dates, hemp seeds), but it is a smaller meal so feel free to enjoy it as a snack or pair something else for a more substantial meal. This smoothie is packed with nutrients like vitamins A and C, and antioxidants that have been shown to reduce heart disease and cancer risk.
SERVING SUGGESTIONS: To make it a heartier meal,
you could add a hard-boiled egg and toast, yogurt or an English muffin with nut butter.
Nutrition
Carbohydrates:
70
g
|
Protein:
8
g
|
Fat:
5
g
|
Saturated Fat:
1
g
|
Cholesterol:
4
mg
|
Sodium:
125
mg
|
Potassium:
1012
mg
|
Fiber:
9
g
|
Sugar:
52
g
|
Vitamin A:
1854
IU
|
Vitamin C:
41
mg
|
Calcium:
144
mg
|
Iron:
3
mg
---
ONE MORE THING!
This recipe is part of our collection of green recipes. Check it out!