Backpacking the Maroon Bells Four Pass Loop was incredible, challenging and absolutely beautiful.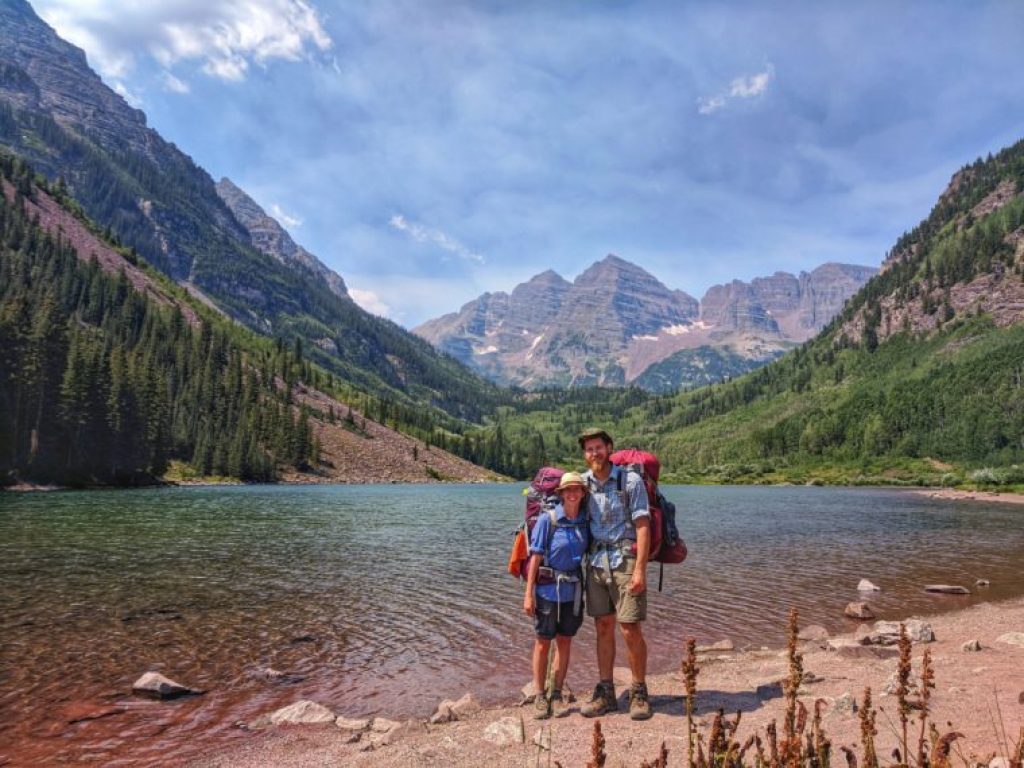 Hi there! Below you'll find affiliate links to great products that we enjoy using in our own kitchen.As an Amazon Associate I earn from qualifying purchases.
Although we'd been backpacking before, this would be our longest trip yet. 30 miles and four mountain passes in 4 days. We gained 8,115 feet after all was said and done! Boy, that was exhausting… Not the longest backpacking trip in history, but you gotta start small, right?
The four pass loop is absolutely gorgeous and a must if you're up for it. It all starts at Maroon Lake, with the iconic and most photographed mountains in the nation – the Maroon Bells. We certainly added a few to that photo count :-).
The trip details below outline our Maroon Bells adventure, and everything we packed for it.
Day 1
Backpacking Pro Tip - research the parking before you head out for your trip. We discovered that if we wanted to park close to Maroon Bells, it was going to cost us quite a bit... So we ended up parking in a lot that was much further away, but it was also much cheaper.
It took two buses just to get to the visitors center. Followed by another scenic bus ride to the Maroon Bells, complete with elk and plenty of insight and stories from our friendly bus driver.
Starting from Maroon Lake, we hiked roughly 5 miles up the trail before finding our campsite for the first night. With the parking troubles, we started much later in the day than anticipated, so the campsite pickings were slim.
But we nestled ourselves in the brush off the trail and hunkered down for the night. We cooked up one of our homemade dried meals - Gnocchi with sun-dried tomatoes and spinach. A delicious and nutritious homemade meal out in the woods.
Day 2
Bright and early, and we're off! Trekking up and up...and up, we eventually reached West Maroon Pass, the first pass in the loop. The views looking back over the valley were simply stunning, well worth the effort of admission. A tough climb for sure.
And over the pass we go, losing every foot of gained elevation on our way... But we meandered through a beautiful valley of wildflowers, surrounded by the colors of nature, and all the buzzzzzing of those busy bees.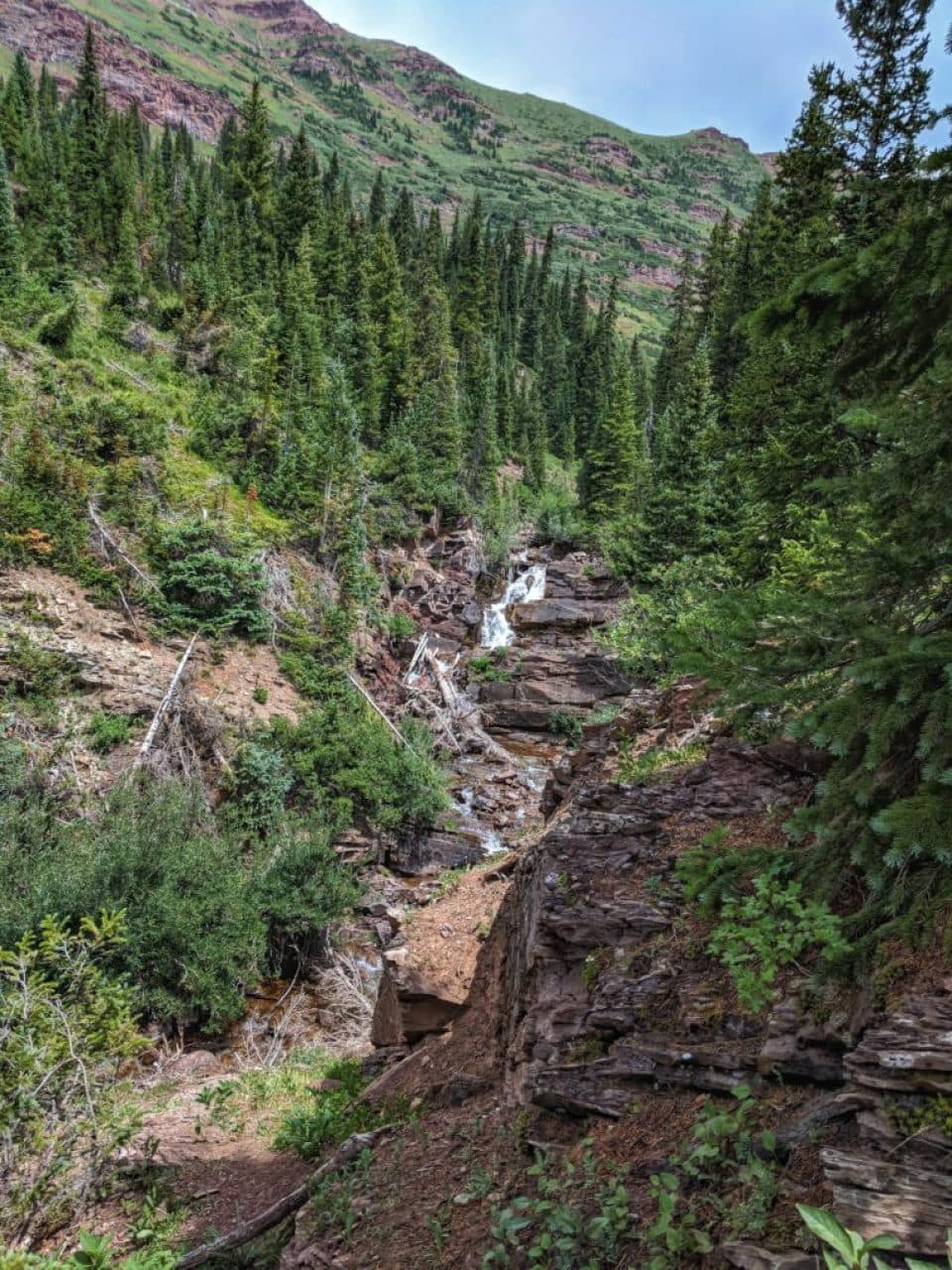 Reaching a new valley, and up we go again, headed for Frigid Air Pass. Luckily, the warm summer day supplied enough heat to keep us less than frigid up there. Had the wind been colder, we may have shortened our mountain-top lunch break. But the weather held up and we enjoyed some much needed rest!
Over the second pass and down we go, all the way through the Fravert Basin, an amazing valley of pines. As the rain began to fall, we both hesitated to pull out our rain gear to avoid the physical pain of strapping on our backpacks again.
Hips, shoulders, and backs surely suffer from the constant weight and rubbing of our packs. But the further we went, the less we felt the pain. That is until we sat down without our packs on for a bit. It's always putting them back on that's the worst!
Through this beautiful valley and guess what we found? Another hill to climb! This was seeming all too familiar... As we climbed, we started to get a bit nervous that we wouldn't find a suitable spot to camp before the incoming storm was going to hit us. It was just us and another hiker going back and forth through the switchbacks.
She'd rest and we'd hike on by with a quick hello, then we'd need a rest and she'd wave as she went on up the steep mountain path. This continued until we finally came across some flat ground, suitable for camp and a much needed night of rest.
We quickly made dinner and curled up in our tent, trying to finish a crossword puzzle as the sound of thunder rumbled right above us... It was so incredibly loud, thunder booming, rain pelting our tent and bright lights flashing across the sky as the storm moved right over us.
Sitting up there over 10,000 feet, I was continuously asking Dalton if it was possible to get electrocuted in our tent… After some reassurance, eventually the storm passed and we slept - for like 12 hours. Apparently, our bodies needed some recuperation!
Day 3
Over the river and through the woods, only two more passes to go. After a night filled with thunderstorms ⚡ (directly over us!) and howling coyotes in the not too far distance, we dug into our bag of homemade tahini cardamom granola for a healthy and energy-dense start to our day.
Completely surrounded by stunning mountain views, we hiked into yet another amazing valley, and approached a lovely little lake. Backpacking trips give us a keen ear for running water. It truly is your lifeline out there!
Our camelbacks were bone dry, and it was definitely time for a refill. Luckily that lovely sound of running water was growing louder and louder. And soon enough we found ourselves crossing the smallest of streams.
That water was definitely cold as the Rockies! Then we were off, up and over Trailrider Pass, often proclaimed as one of the tougher passes along this loop - and they weren't wrong.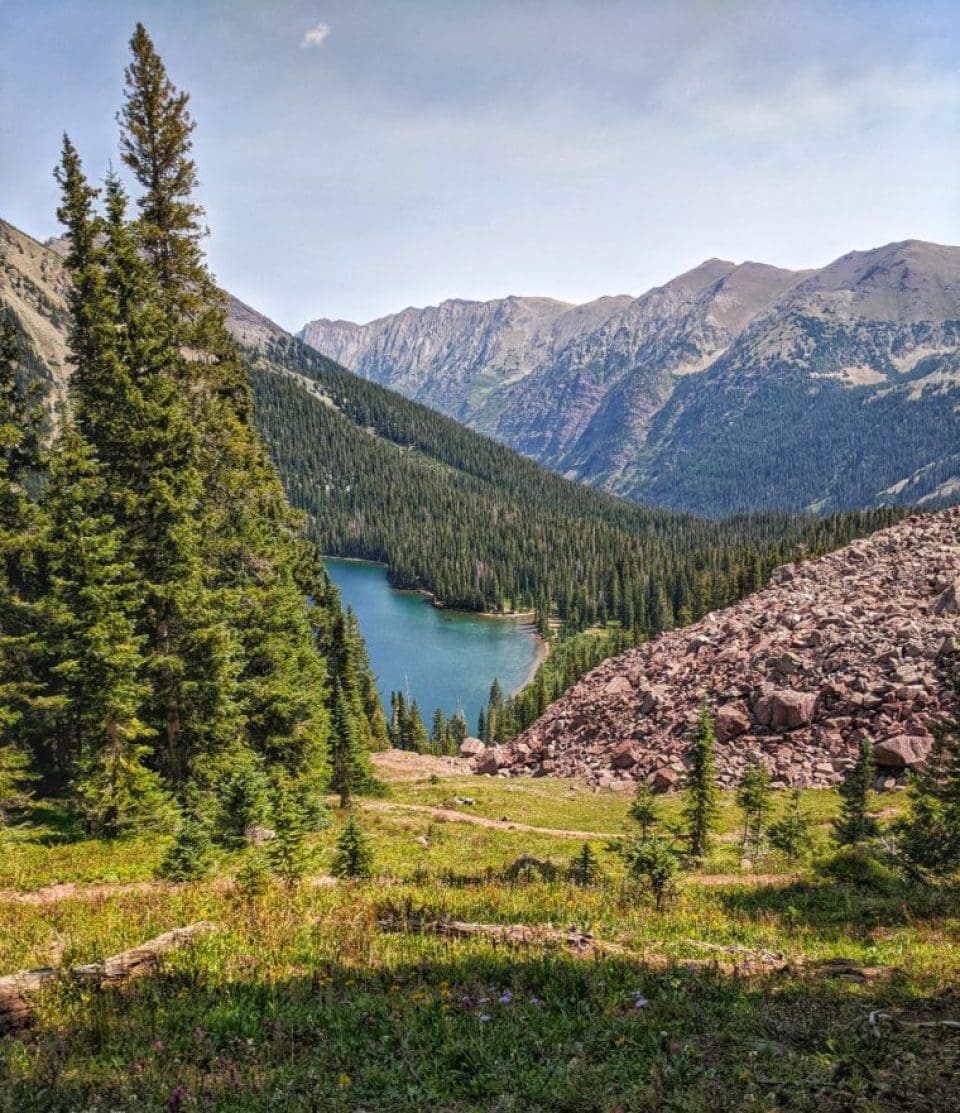 A quick snack break on top of Trailrider pass offered a fantastic view of the distant Snowmass Lake. A few more miles down the line and we stopped at our favorite lunch spot of the trip - Snowmass Lake. Right at the base of Snowmass Mountain, the views were incredible (the photos just don't do it justice).
We were surrounded by water and that white stone mountain looming above us. A lovely lunch and many more handfuls of granola later (we brought quite the large bag) and we were on the trail again.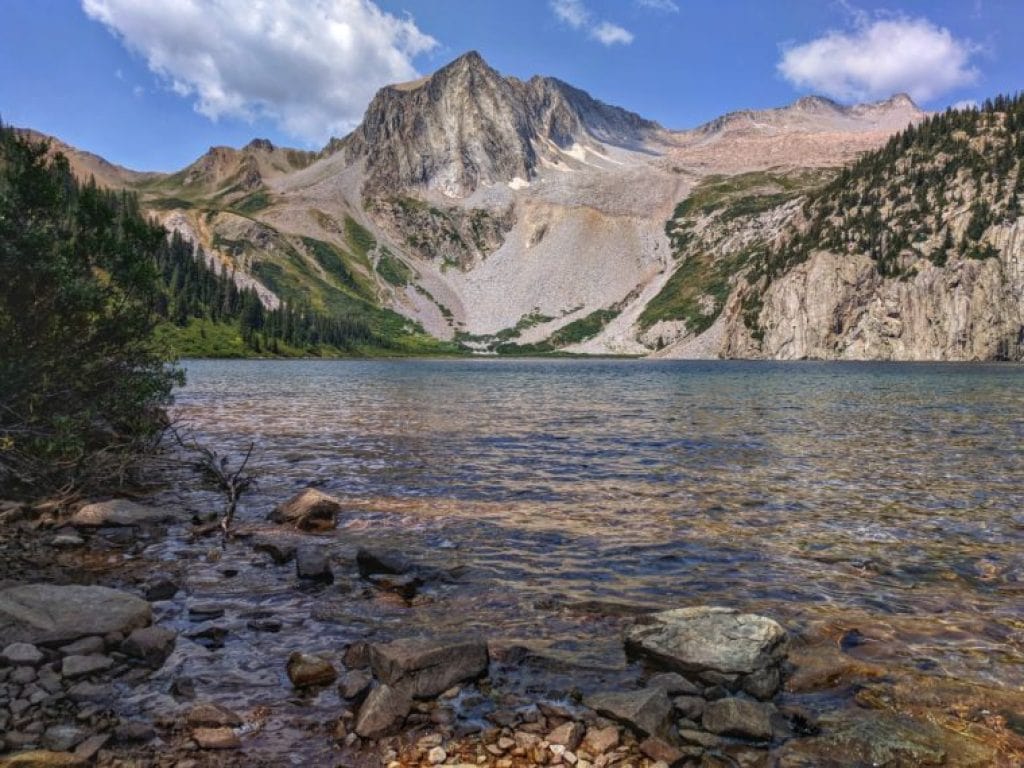 After a fairly flat couple of miles, we approached our final obstacle - Buckskin Pass. Or so we thought. Afternoon storms in the mountains of Colorado are essentially like clockwork and can be quite dangerous, especially when you're hanging out at 12,500 feet. So after ducking in the trees to avoid hail and lightning, we made our final dash up and over the mountain.
You can never take lightning too seriously, especially when you're on top of the mountain! So patience was key, and it paid off. The weather cleared and up we went again.
Finally done climbing for the weekend, we hiked down into the last valley and camped with another inspiring view. Surrounded by mountains (pretty easy to do out there), we enjoyed dinner and a crossword to close out our final night of our Four Pass Loop adventure.
Day 4
Breakfast and coffee just tastes better with a view like this. We packed up our gear and made sure to leave no trace. This last stretch was an easier 3-mile hike out - and luckily it was all downhill. Returning to Maroon Lake, of course we got a few final glamour shots.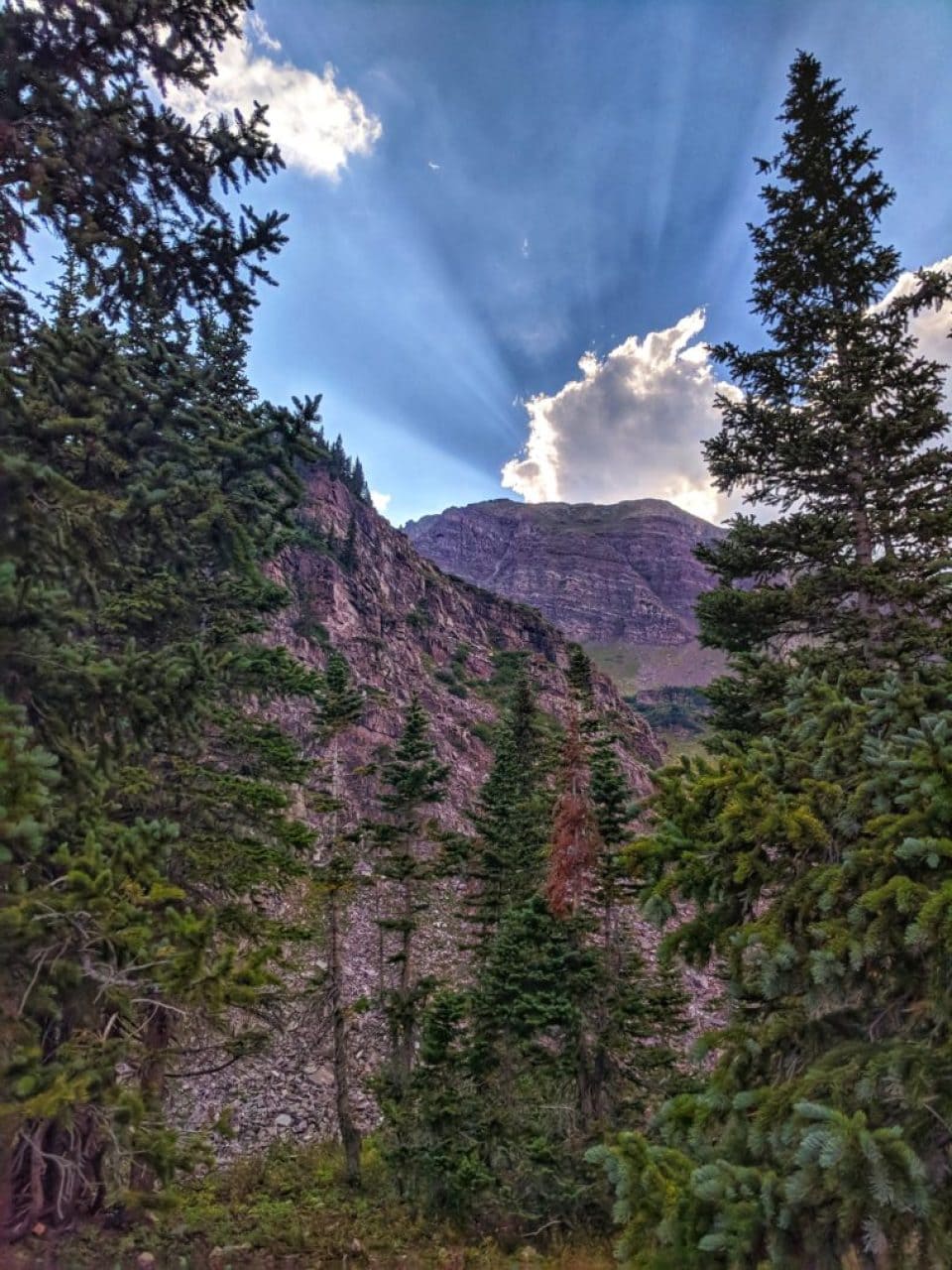 4 days and 30 miles later - headed home for our cozy bed and much needed showers! Our way out of the bells was just as entertaining with 3 buses, a singing bus driver, and a couple of tired and smelly hikers. All I could do was smile and enjoy the ride. 🙂
It was such an amazing trip - if you have the chance to hike, don't miss it. You'll find the most incredible views with every step.
We've been preparing our backpacking meals and snacks all week. We love to keep it homemade as much as possible, for a number of reasons...
Making food items at home produces less waste
You know EXACTLY what's going into your food
We're not limited to those boring store-bought backpacking meals
And homemade stuff just plain tastes better
Our backpacking food list
Homemade dried food dinners - just add water!

Mediterranean couscous with spinach and artichokes
Thai peanut rice dish
Gnocchi with sun-dried tomatoes and spinach
Breakfasts

Tropical pineapple oatmeal
Date pecan oatmeal
Snacks

Avocados
Dried pineapple
Homemade zucchini blondie bars
Dried squash chips
Homemade spiced nuts

Salmon packets – We still need to practice drying our own meat
Great tasting, nutritious food is always a top priority of ours, even while backpacking! Not everything was zero waste, but we're working on it and this was a great learning experience for us! Check out our zero waste backpacking guide for even more tips for your next camping or backpacking adventure!